I'm an absolute jewellery fanatic, and i really believe jewellery is a big part of fashion. I've worked in a tiny silver store for almost three years now and have ammassed quite the colection of baubles. I've been looking for a big ring with a beautiful, natural stone for a while now and the store i work in just wasn't providing. So i went elsewhere. I'm a traitor, whatevs.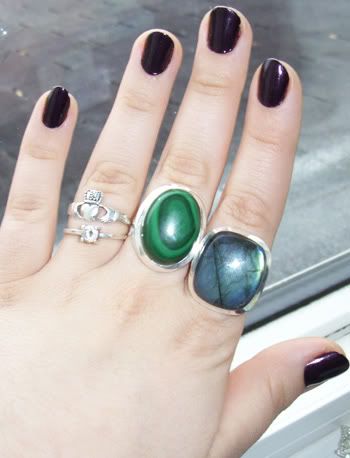 The one on my middle finger is a stone called Malachite and the one on my first finger is Labradorite, which looks different depending on the angle you're looking from. Tilted a certain way, Labrodorite appears very greyish, but when the light hits it right you can see a play of blueish green colours and sparkles in it.
As i was taking this picture i thought it would be fun (read: ridiculous) to put all of my rings on one hand to show you guys. So i tried but i couldn't fit them all... So i just did all my sterling silver rings.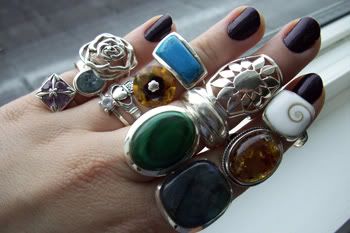 *listed from bottom to top of each finger*
Pinkie finger:
Amethyst, Blue topaz, plain silver rose
Ring finger:
cubic zirconia ring that is NOT an engagement ring (usually worn on right hand), Claddagh ring also usually worn on right hand (signifies relationship status), Amber, Turquoise
Middle finger:
Malachite, plain silver, plain silver sunflower
First finger:
Labradorite, Amber, Shell.
Phew. Honestly the reason i'm so into rings right now is because i stopped biting my nails. Whenever this happens (usually once every two years for a few months, though i'm hoping this time i'll stick to it) i buy rings because i think my hands look pretty. I also buy nailpolish. This is the same one i mentioned in the last post: "Black Cherry Chutney" by OPI. I looooove this nailpolish!
What are your favourite stones to wear in jewellery (rings, pendants, earings, whatever!)? Why do you like these stones?
Love Always,
Amy