A little while ago,
Kyla at Blue Collar Catwalk
made a
tutorial video
about how to do a top knot hairstyle. I commented about how sad I was 'cause it looks so good on Kyla but I have a mane and it would look ridiculous on me. Kyla replied with something along the lines of "GRRRRL yo hairz would look FIERCE in a topknot". So I tried it and this is what I came up with!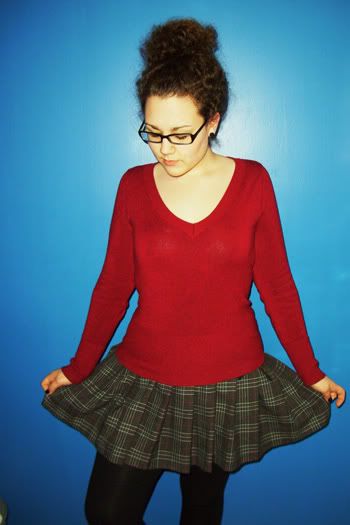 Please note that this photograph was taken after being out in the rain all afternoon. Just sayin', it looked better before i left the house and stepped into the humidity. I wasn't sure about how the style looked on me, but my boyfriend liked it and I guess he would have said soemthing if he thought I looked ridiculous because he's the one that has to be seen in public holding my hand...
Oh yeah,
Sweater: Smart Set
Skirt: Thrifted, $4
Tights: Garage, $10
Everyone should try doing a top knot! I found it really comfortable, especially for sleeping, 'cause you're not lying on your hair. Also, if my hair is down on a rainy day it turns into a huge frizzy mess (even more so than usual), so this was a good solution.
P.S. The title of this post is derived from
this hilarious YouTube video
that I'm sure half of you have seen at some point. Whenever i ask people for their numbers in real life, i say it like this guy does haha.
Love Always,
Amy