Went thift/consignment store shopping this weekend, both with a friend and the boyfriend. Found some awesome stuff, including this colourful (extravagent?) sweater: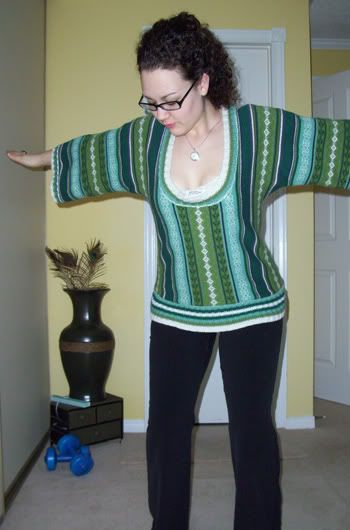 Sweater: $8 from consignment store
Pants: thrifted, $2 (srsly.)
I never said i was a good photographer. I make no excuses for my ridiculous poses and unfortunate facial expressions. Here is what was going on in my head while taking outfit pictures this morning:
1. Shitshitshitshit bus comes in fifteen minutes shitshit
2. Ewww wet hair dripping down my back
3. Have to use flash 'cause it's still dark outside... Look down to avoid awkward blinky faces
4. Must show sick sleeves. Spread arms!
5. Too much to remember... I'll just pretend I'm flying and looking down on all the little people! OKAY LET'S GO!
And a few minutes later, when I was rushing out the door with two slices of toast jammed in my mouth, i realized the sleeves literally do not even fit in my coat sleeves. They have to be bunched up into the shoulder space of the coat. So i looked like a chilly football player outdoors today. No big deal.
Honestly, though, I really do love this sweater. Though it's a number of sizes too big, I like the way the gigantic scoop shows off my neck. That and the big sleeves are glamourous if you ask me.
Love Always,
Amy