Tomorrow morning is my last exam. Thankfully. I'm seriously about to die of stress. My friend made me a cookie in the shape of the male reproductive anatomy today, though, so that was pretty excellent.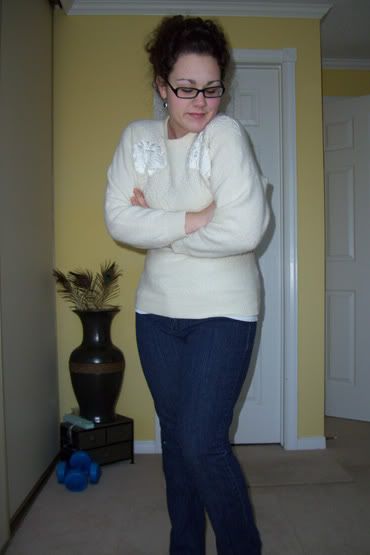 Sweater: Goodwill, $5
Jeans: Joe Fresh via Goodwill, $3
Two pairs of Icebreaker merino wool socks: Free courtesy of BF's job
Not only was my outfit today ridiculously cheap, it was also super warm. I looked at the temperature this morning (-23 celcius: COLD) and nearly had a panic attack. Can you believe I went through the last two winters with only a fall jacket from Suzy Shier? This year i got a heavy wool coat (Thifted Jordache for $14. I kid you not) and scored some super warm socks from the BFs work so it's been easier to cope with the temperatures.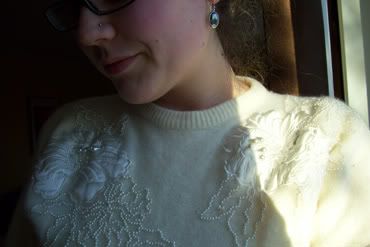 Details of the sweater embellishment. I've been wanting a beaded or sequined sweater forever and finally found this one a few weeks ago. I took out the shoulder pads and shrunk it in the dryer.
Lately I Am...Eating:
I've had six pieces of raisin bread toast with cream cheese today. It's exam period, what can I say?
Drinking:
Coffee, coffee, tea, and more coffee
Listening to:
Lots of Anna Nalick, Gaga, and random pop songs like Jordin Sparks' "Battlefield" and Justin Bieber's "Love Me"
Researching:
The origins, development, and role of feudalism in medieval society
Reading (book variety):
"The Less Noble Sex" by Nancy Tuana for my exam tomorrow. If you're interested in the origins of female oppression (I'm talking biblical and Aristotalian arguments), get this book!
Reading (blog variety):
I recently discovered
Small Town Chic
Wish me luck on this exam! I'm actually probably going to need it...
Love Always,
Amy
Title song: "Winter" by Joshua Radin